Our Mental Health Care Homes in West Midlands Offer
Select Healthcare are a first-rate provider of professional mental healthcare facilities in West-midlands, caring for adults diagnosed with a range of mental health illnesses from depression and anxiety, to psychological disorders and psychotic illnesses such as schizophrenia and bipolar. Our West-midlands mental health care homes also specialise in the assessment of alcohol induced disorders such as Wernicke and Korsakoff.
Our West-midlands mental health care plans are comprehensive and individualised to the needs of our clients based on pre-admission and a thorough risk assessment, to ensure effective treatment plans are in place and enable us to achieve great outcomes for our short term and long stay clients.
Many recipients of our West-midlands mental health care services have short episodes and can return back to 'normality' before long, keeping their independence and life skills, while for others this may be more of a struggle. Some individuals will suffer long term, enduring or chronic mental illness that can affect their social behaviour, skills and life outside of our mental health care homes - our care plans aim to tackle this issue.
Our mental health care facilities in West-midlands can act as a step-down following on from or as an alternative to a hospital stay and help to spur on the recovery of guests and help make their transition to their communities a bit easier.
Our care plans are flexible, diverse and tailor-cut to the receivers needs by a multi-disciplinary team of the best mental health care providers in West-midlands, including registered nurses, care staff, occupational therapists and psychologists.
All mental health care plans incorporate reviews with specialised professionals in this field and family and friends, where appropriate, to ensure our clients best interests and being represented.
Select Healthcare prides itself on creating a safe, homely environment in all of our West-midlands mental health care homes and put a strong focus on recreational activities and social inclusion within the home and local community.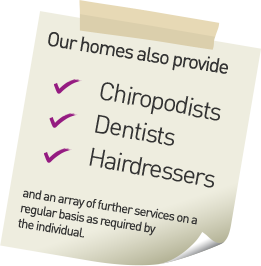 SHOWING RESULTS FOR:
Region(s)

West Midlands
Service(s)

Mental Health Care
Clear Search
Holly Hall House Care Home Mental Health Care in Dudley, West Midlands
Holly Hall House is a residential care home registered for adults with a mental health condition and or learning/physical disability. It is located close to the town of Dudley and provides accommodation for 10 residents.
Every new Holly Hall resident is provided with an individual person centred plan of care ...
Care Homes
Learning Disabilities
Mental Health Care
Residential Care
Respite Care
Chiropody
Dentist
Optician
Psychiatrist
Psychologists
Religious Services
Speech Language Therapy
Jubilee Court Care Home Mental Health Care in Coseley, West Midlands
Jubilee Court is a care home for Adult Service Users with Physical Disabilities, Acquired Brain Injury and Degenerative Neurological Disorders, requiring a continuum of care, through a structured programme of rehabilitation.
Jubilee Court is a specialist service with 3 areas of accommodation that support individual needs. All 3 ...
Brain Injury Unit
Care Homes
Mental Health Care
Nursing Care
Physical Disability
Residential Care
Activities
Chiropody
Dentist
Hairdresser
Occupational Therapy
Optician
Physiotherapy