Our Dementia Care Homes Offer
Quality care for older people who are suffering from dementia caused by Alzheimer's and similar conditions.
Select Healthcare follows the principles of person-centred care and seeks to recognise and maintain, as far as possible, the unique qualities, abilities, interests, preferences and needs of people with Alzheimer's disease and dementia.
If you're looking for dementia care homes near you, Select Healthcare group of care homes provide 24-hour care to support individuals with the main types of dementia and its causes which include:
Alzheimer's disease
Vascular dementia
Lewy body dementia
Parkinson's disease
Frontotemporal dementia
When it comes to residential dementia care, you can be confident that your loved ones are in a safe and homely environment when they are cared for in a Select Healthcare home.
Our dementia care homes are purpose-built homes with staff trained in the specifics of dealing with the condition. People living with Alzheimer's disease and other forms of dementia often experience confusion, impairing their function. At Select Healthcare, we understand that caring for someone with this type of condition takes patience, compassion and specialised care staff to support the progressive symptoms of this disease. The residents of our care homes have person-centred care plans to ensure their individual needs are catered to completely. Dementia nurses, care assistants, therapists and activity coordinators work together to provide holistic care 24 hours a day.
Memory loss is one of the main symptoms of dementia which progressively affect an individual's, language, behaviour, comprehension and ability to handle everyday tasks. Within our care homes, we create an environment that stimulates the mind and makes our residents feel safe and comfortable. Our activity coordinators develop special activities for people with dementia like reminiscence therapy and other shared activities like music sessions with songs from the past. We focus on stimulating activities that promote inclusivity and are beneficial to those in the early stages of the disease as well as those with late-stage dementia.
In Select Healthcare homes, we provide a high standard of personalised care that meet standards set by the CQC. The friendly staff who support people living with dementia are highly trained to help combat the frustration that can accompany the symptoms and make life easier. From help with personal care to supporting individuals to access the community, every level of care we provide is rooted in patience, compassion and dignity.
If you want to find outstanding dementia care near you, look at the many specialist care homes within the Select Healthcare group to find the ideal home for your loved ones.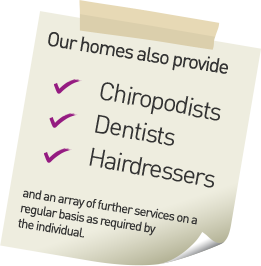 SHOWING RESULTS FOR:
Region(s)

All
Service(s)

Dementia Care
Clear Search
Aldergrove Manor Care Home Dementia Care in Wolverhampton, West Midlands
Aldergrove Manor Nursing and Residential Care Home
Aldergrove Manor is a 70 bedded purpose built Care Home situated in the Penn area of Wolverhampton close ...
Care Homes
Dementia Care
Elderly Mentally Infirm - EMI
Nursing Care
Palliative Care
Physical Disability
Residential Care
Respite Care
Activities
Chiropody
Dentist
Hairdresser
Optician
Physiotherapy
Psychiatrist
Psychologists
Religious Services
Reminiscence Therapy
Ashgrove Care Home Dementia Care in Wrexham, Wales
Ashgrove Residential Home boasts a brand new 10 bedded Dementia Care Unit.
Ashgrove Residential Home is set in the quaint village of Gresford in Wrexham. Its central location offe ...
Care Homes
Dementia Care
Residential Care
Respite Care
Activities
Chiropody
Dentist
Hairdresser
Optician
Religious Services
Reminiscence Therapy
Delves Court Care Home Dementia Care in Walsall, West Midlands
Nursing and Residential Care Home
Delves Court is situated on the outskirts of Walsall Town, with excellent transport links with the nearb ...
Care Homes
Dementia Care
Nursing Care
Palliative Care
Residential Care
Respite Care
Activities
Chiropody
Dentist
Hairdresser
Occupational Therapy
Optician
Religious Services
Reminiscence Therapy
Speech Language Therapy