Our Residential Care Homes in Cheshire Offer
Select Healthcare's residential care homes in Cheshire provide assistance to those in need of 24hour care, within a safe, secure and supportive environment.
We believe that residential health care should place a strong emphasis on stimulating the minds and bodies of all guests at our Cheshire residential care homes, so we integrate social interaction and recreational activities into the everyday care plans.
We have built our success as a leading provider of residential care in Cheshire thorough a combination of compassionate care, devoted staff and lively surroundings that focus on fun activities and daily entertainment for our guests.
Every Select residential care home in Cheshire has a team of dedicated activities coordinators who work around the clock to create a lively and diverse monthly activities programme to ensure every resident has the a fun, warm and welcoming stay at any of our Cheshire residential care homes. Some of the most popular on goings are Bingo Days, Old Time Sing-a-Longs, Arts and Crafts as well as excursions and social outings such as walks around the local community or shopping. We have a number of seasonal events taking place throughout the year for Christmas, Easter, Bonfire Night and Halloween, all of which we encourage family and friends of our residents to participate.
Our residential care homes for the elderly in Cheshire have specialised care teams that are fully qualified, well experienced and hand selected as being the best in the field. Guests in our residential care homes quickly adapt to their friendly nature and are reassured that all staff are readily available to provide them with care and assistance with all activities of daily living. Family and friends can also have peace of mind that we have regular visits from district nurses and other medical professionals. We believe in compassionate and quality care that engages the hearts and minds of all our residents.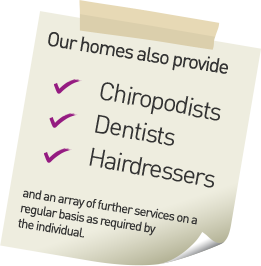 SHOWING RESULTS FOR:
Region(s)

Cheshire
Service(s)

Residential Care
Clear Search
Sherborne Court Care Home Residential Care in Crewe, Cheshire
Sherborne Court is a specialist Neurological Centre offering a variety of care pathways from long term to short term assessment.
Sherborne Court is situated in Crewe, with excellent transport links into the local town, Wales, Chester ...
Brain Injury Rehabilitation
Brain Injury Unit
Care Homes
Nursing Care
Physical Disability
Residential Care
Respite Care
Activities
Chiropody
Dentist
Hairdresser
Occupational Therapy
Optician
Physiotherapy
Psychologists
Religious Services
Speech Language Therapy
Westwood Court Nursing Home Residential Care in Winsford, Cheshire
Westwood Court is a specialist Nursing Home supporting the needs of adults with Dementia or enduring Mental Health conditions.
Westwood Court can provide care for up to 56 people. It is registered to provide personal care for people ...
Care Homes
Dementia Care
Nursing Care
Residential Care
Respite Care
Activities
Chiropody
Dentist
Hairdresser
Optician
Religious Services