Our Learning Disabilities Care Homes in Staffordshire Offer
Select Healthcare has homes for individuals who have learning disabilities in Staffordshire. We promote the independence of our residents whilst ensuring that their care needs are met and delivered by our qualified staff teams.
All of our care homes in Staffordshire for adults with learning disabilities place a strong emphasis on community involvement and integration. Select Healthcare prides itself on creating a homely environment with emphasis on social interaction and regular activities to stimulate the mind and body.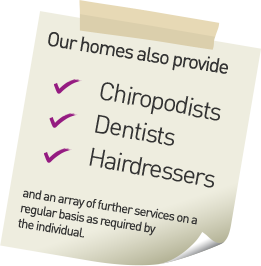 SHOWING RESULTS FOR:
Region(s)

Staffordshire
Service(s)

Learning Disabilities
Clear Search
Little Ingestre House Care Home Learning Disabilities in Stafford, Staffordshire
Little Ingestre House Care Home is located in a rural picturesque setting, between the towns of Stafford and Rugeley which provides accommodation for 15 residents with a range of disabilities including physical disability, visual impairment, epilepsy, cerebral palsy, brain injury and learning disability.
Every new resident at Little Ingestre is provided with a personal care plan and introduce ...
Brain Injury Rehabilitation
Brain Injury Unit
Care Homes
Learning Disabilities
Physical Disability
Residential Care
Respite Care
Activities
Chiropody
Dentist
Hairdresser
Occupational Therapy
Optician
Religious Services
The Mews Care Home Learning Disabilities in Stafford, Staffordshire
The Mews is a 24 hour residential care facility registered for adults with both Learning and Physical disabilities.
The Mews is located in the Staffordshire countryside which provides accommodation for 8 residents across ...
Brain Injury Rehabilitation
Brain Injury Unit
Care Homes
Learning Disabilities
Mental Health Care
Physical Disability
Residential Care
Respite Care
Activities
Chiropody
Dentist
Hairdresser
Optician
Psychiatrist
Psychologists
Speech Language Therapy