Our Homes Care Homes in Coseley Offer
Select Healthcare Group has an assortment of care homes in Coseley, each with the health and interests of the residents at the heart of every decision. We provide a comfortable and warm environment in which every resident and their families can feel at home.
Our Coseley care homes are staffed by considerate and qualified professionals including care staff, registered nurses, therapists and psychologists, meaning your loved ones will always have access to the personalised care they require.
Our residential care homes cater to a plethora of needs including brain injury rehabilitation, learning disabilities, mental health care, palliative care and nursing care homes for the elderly. Furthermore, our nurses undergo specialised training to care for those with dementia and we have an array of dementia care homes in Coseley.
Regardless of the reason for your loved ones stay in our Coseley care home; it is crucial for us that both residents and staff enjoy their time with Select Health Care. Our goal is for all residents to make the most out their stay and this is achieved through staff recognising and catering to an individual's unique qualities, abilities, interests and preferences.
There is a strong emphasis on socialising and activities in all of our care homes to keep the mind and body active. A small handful of the most loved activities among residents include local walks, baking, quizzes, arts and crafts, exercises, beauty and shopping.
Amenities such as hairdressers, opticians, dentists, chiropractors and religious services are also accessible within our care homes in Coseley; however these do vary depending on the home you choose.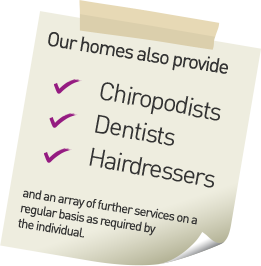 SHOWING RESULTS FOR:
Region(s)

All
Service(s)

Care Homes
Keyword(s)

coseley
Clear Search
Jubilee Court Care Home Care Homes in Coseley, West Midlands
Jubilee Court is a care home for Adult Service Users with Physical Disabilities, Acquired Brain Injury and Degenerative Neurological Disorders, requiring a continuum of care, through a structured programme of rehabilitation.
Jubilee Court is a specialist service with 3 areas of accommodation that support individual needs. All 3 ...
Brain Injury Unit
Care Homes
Mental Health Care
Nursing Care
Physical Disability
Residential Care
Activities
Chiropody
Dentist
Hairdresser
Occupational Therapy
Optician
Physiotherapy