Our Residential Care Homes Offer
Our Residential Care Homes provide 24 hour personalised care within a homely, relaxed, secure, safe and supportive environment.
Select Healthcare prides itself on creating a homely environment, with emphasis on social interaction and regular activities to stimulate the mind and body. We believe in quality, compassionate care that engages the hearts and minds of all our guests.
Members of our care teams are carefully selected and fully qualified, and are readily available to provide assistance with all activities of daily living. Our guests are comfortably reassured that all their care needs are taken care of. We also have regular visits from the district nursing service, in all our homes for extra piece of mind and reassurance.
We have built our success through a mixture of compassionate care and vibrant surroundings, full of fun activities and daily entertainment. Mealtimes, in particular, are considered by many of our guest to be a lively social gathering each day.
Our Activities Co-ordinators work hard to create a lively and varied activity programme each month, which includes events such a Bingo, Old Time Sing-a-Longs, Arts and Crafts as well as social outings and excursions. We also provide a special entertainment programme and meals for Christmas, Easter and Bonfire Night to name a few, where we encourage relatives and friends to participate in the days' festivities.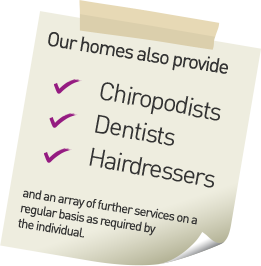 SHOWING RESULTS FOR:
Region(s)

All
Service(s)

Residential Care
Keyword(s)

shrewsbury
Clear Search
Briery Lodge Care Home Residential Care in Shrewsbury, Shropshire
Briery Lodge is a residential home able to support 7 residents with learning disabilities, physical disabilities and complex needs. This includes individuals who require support with Epilepsy, Autism, enteral feeding, dysphagia, sensory impairments as well as behaviours which are described as challenging.
Briery Lodge is part of the Select Healthcare Group which offers an approach which is person centred and ...
Care Homes
Learning Disabilities
Novero Specialist Care
Physical Disability
Residential Care
Activities
Chiropody
Dentist
Hairdresser
Optician
Religious Services
The Coach House Care Home Baschurch Residential Care in Shrewsbury, Shropshire
The Coach House is a residential care home able to support 9 residents with learning and physical disabilities, brain injury, mental health needs, personality disorder, autism and dementia.
The Coach House is located in the village of Baschurch in Shrewsbury. Each new resident is prov ...
Brain Injury Rehabilitation
Brain Injury Unit
Care Homes
Dementia Care
Learning Disabilities
Mental Health Care
Residential Care
Respite Care
Chiropody
Dentist
Hairdresser
Optician
Religious Services
The Old Vicarage Care Home Residential Care in Shrewsbury, Shropshire
The Old Vicarage is a residential home for adults with learning disabilities, autism, personaility disorder and mental health needs.
The Old Vicarage is located in the quaint village of Baschurch in Shrewsbury which provides accommod ...
Care Homes
Learning Disabilities
Mental Health Care
Residential Care
Respite Care
Activities
Chiropody
Dentist
Hairdresser